discover the breakthrough facts
The Research

The Capturing Kids' Hearts process is well documented to significantly improve campus critical success factors. Capturing Kids' Hearts National Showcase Schools are awarded based on these facts. The following research supports the Capturing Kids' Hearts strategy and illustrates the impact of LeadWorthy (formerly Teen Leadership), and documents additional case studies from various types of implementations.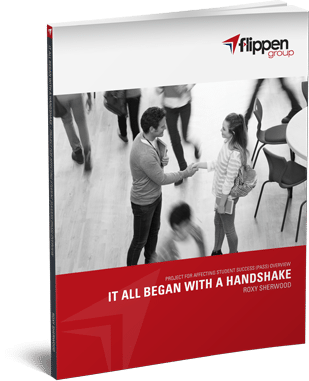 AS A RESULT OF LEADWORTHY (formerly TEEN LEADERSHIP), absenteeism went down and grades went up!
Cleburne High School (CHS) had been entering over 500 freshmen each year, yet graduating just half that number. Judy Senter, campus principal, implemented Flippen Group's LeadWorthy curriculum (formerly called Teen Leadership)  in an experimental program for a targeted "at risk" incoming group of freshmen. As a result of the program, absenteeism went down, grades went up, and peer and teacher relationships formed. Because of the positive atmosphere, teachers and students alike looked forward to coming to school. All these changes began with a simple handshake.
DOWNLOAD THE RESEARCH
Sherwood, R. "It All Began With a Handshake." Stephenville, TX: Tartleton State University; 2003.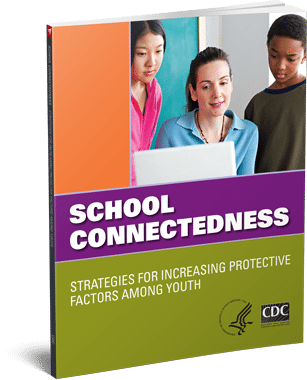 Students who feel more connected to school are more likely to have positive outcomes
Efforts to improve child and adolescent health have typically featured interventions designed to address specific health risk behaviors, such as tobacco use, alcohol and drug use, violence, gang involvement, and early sexual initiation. However, results from a growing number of studies suggest that greater health impact can be achieved by also enhancing protective factors that help children and adolescents avoid behaviors that place them at risk. School connectedness is a particularly promising protective factor. Students who feel more connected to school are more likely to have positive health and education outcomes.
DOWNLOAD THE RESEARCH
Centers for Disease Control and Prevention. "School Connectedness: Strategies for Increasing Protective Factors Among Youth." Atlanta, GA: U.S. Department of Health and Human Services; 2009.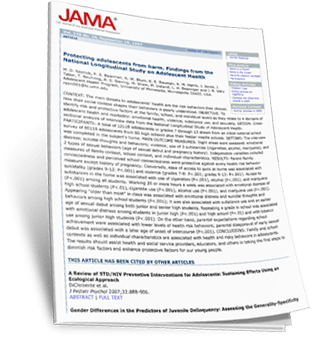 SCHOOL CONNECTEDNESS IS PROTECTIVE AGAINST MOST HEALTH RISK BEHAVIORS
The main threats to adolescents' health are the risky behaviors they choose. How their social context shapes their behaviors has been poorly understood. To identify risk and protective factors at the family, school, and individual levels, a cross-sectional analysis of interview data from the National Longitudinal Study of Adolescent Health was conducted. Eight areas were assessed: emotional distress, suicidal thoughts and behaviors, violence, use of cigarettes, alcohol, marijuana, sexual debut, and pregnancy history. It was concluded that both parent-family connectedness and perceived school connectedness were protective against most of these health risk behaviors.
DOWNLOAD THE RESEARCH
Adolescent Health Program, University of Minnesota (1997). "Protecting adolescents from harm. Findings from the National Longitudinal Study on Adolescent Health." The Journal of the American Medical Association, Vol. 278 No. 10.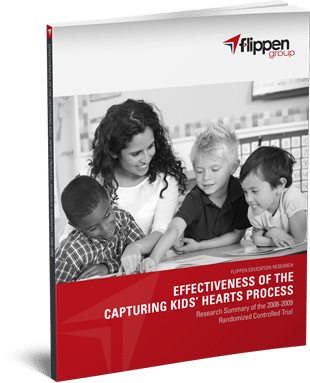 Schools Implementing Capturing Kids' Hearts Enjoyed a 41% Increase In Pro-social Skills And 33% Fewer Discipline Referrals Than Control Schools
Capturing Kids' Hearts is a school-level intervention that impacts student behavior by enhancing school climate through improved relational and conflict management skills. Schools implementing Capturing Kids' Hearts experienced on average a 22% decrease in discipline referrals whereas control schools experienced on average an 11% increase in referrals, a difference of 33%. In addition, students in intervention schools exhibited a 26% increase in pro-social behaviors associated with the training whereas students in control schools exhibited a 15% decrease in these behaviors, a difference of 41%.
DOWNLOAD THE RESEARCH
Holtzapple, "Research Summary of the 2008-2009 Randomized Controlled Trial: Effectiveness of the Capturing Kids' Hearts Process." 2009. Holtzapple, "BOCES & RCOE Final Report Summary," January 18, 2010.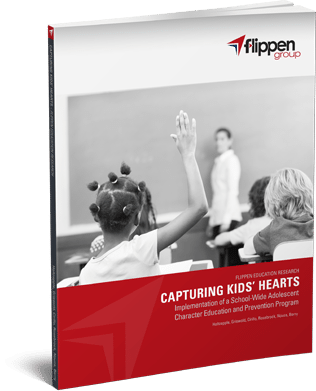 frequently asked questions regarding the research-based processes of the flippen group
FAQs Addressed: How did Capturing Kids' Hearts begin? Why was it developed? What research undergirds Flippen processes? How can I get these processes on my campus? What does systemic implementation mean? Can I purchase Capturing Kids' Hearts alone? What systemic packages are available? How can I see it in action?
DOWNLOAD THE RESEARCH
Flippen Group. "Research FAQ, January 2016." Web March 2016.