FROM "PROBLEM" TO PROBLEM-SOLVING
Elevating Classrooms Through Social-Emotional Safety.

BUILDING AWARD-WINNING CLASSROOMS
Developing social-emotional safety to elevate student performance.
Teachers can't always control what comes into their classrooms, but they can learn to create an environment that transforms "problem" classrooms into high-achieving centers of learning.
The typical classroom comprises students with diverse family backgrounds, expectations for behavior, and cultural vocabularies, randomly assembled into a cohort and required to learn together. Too often, the impact of peer pressure and outside influences create a culture and climate that passively or even actively resists learning.
We equip and empower teachers with the tools necessary to transform classrooms from disruptive, reactive environments into places where put-downs and criticism dissipate and students' minds become actively engaged in learning. Something marvelous happens when a student feels understood: openness replaces defensiveness. Social barriers dissipate. Judging and feelings of being judged are replaced with acceptance and a real connectedness to the school. Their hearts open, their minds engage, and they want to learn.
1. TEACHERS
Even the best teachers struggle with difficult behaviors. Instead of teaching reading, writing, and mathematics, too often teachers face complex behavioral issues with students who are not prepared or motivated to learn. A typical classroom relies on a teacher to govern behavior and require compliance with rules, or students face disciplinary consequences such as detention, suspension, or even expulsion. However, with proper training and skills, teachers can establish a classroom that systematically manages disciplinary issues.
We help teachers who are frustrated or discouraged and equip them with the tools they need to turn "problem" classrooms into problem-solving havens of learning.
Our processes strengthen students' connectedness to others through enhancing healthy bonds with teachers and establishing collaborative agreements of acceptable behavior. Teachers trained in our processes create an atmosphere where students connect and take responsibility for their emotions, words and actions, stop seeing each other as adversaries, and become partners in resolving conflict. Then, without behavioral distractions, teachers are free to engage students who would otherwise be unwilling or unable to focus on the lesson.
This learning process inevitably affects students' lives beyond the classroom and has a positive impact on their ability to develop healthy relationships in all areas of their lives.

2. Administrators
Schools that implement our processes not only stem the tide of declining performance, but reverse it. These schools immerse students, teachers, and administrators in an intentional culture that promotes a new level of achievement. When school administrators provide ongoing training for teachers in our processes, it infuses the entire school with a sense of loyalty, belonging, and enthusiasm for learning.
The widespread impact of our processes reads like a wish list for school administrators. Teachers report a higher rate of job satisfaction, while schools see a dramatic reduction in truancy. Administrators report district-wide impact with improvements in test scores, reduced disciplinary escalations, fewer dropouts, and a reduction of negative behaviors such as isolation, violence, early sexuality, and substance use. Administrators implementing our processes in the classroom also report a significant improvement in teacher recruiting and retention.
With our processes in place, administrators can allocate more resources, including their own time, to creating a positive atmosphere where teachers and students flourish.
Ready for Award-Winning Classrooms?
Call Today!
1-800-316-4311
SOLUTIONS
Turn your "problem" classrooms into "problem-solving" centers of learning.
Our solutions have already dramatically elevated the academic and behavioral standards of millions of students in thousands of classrooms.
SUCCESS STORIES
While numbers don't tell the whole story of the way individual lives are impacted by our processes, they sure are a great cause for optimism!
STATEMENT OF SUPPORT: FLIPPEN EDUCATION

30% More Students Meet Standards
National Showcase School 2015-2016
"Prior to Country Meadows beginning the implementation of the Capturing Kids' Hearts process, the school had lost its second principal that year, had a failing label, and was placed in school improvement by the State Department of Education. After training the entire staff we began to see culture results right away. After only two years we had moved out of school improvement and had raised the level of students meeting or exceeding the state standards by more than 30%. Implementing the Capturing Kids' Hearts process, Process Champions and Teen Leadership classes have been a big part of not only changing the entire culture, but also raising achievement dramatically and making us a school people now want to emulate. Our school has piloted numerous district-wide programs including Capturing Kids' Hearts that are now being implemented by schools throughout our District and state. One of my proudest moments was being invited to present at the National Model Schools Conference in Washington, D.C. on 'Changing School Climate and Raising Achievement.' A significant portion of the presentation was the difference the Capturing Kids' Hearts process made. In my 40+ years in education, I can honestly say the Capturing Kids' Hearts process is the most impactful educational process I've ever used."
Country Meadows Elementary | Peoria, AZ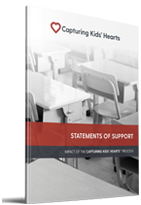 DOWNLOAD THE FLIPPEN EDUCATION
STATEMENTS OF SUPPORT
Nationwide Education Leaders, Campuses, and Districts Share the Transformation Results of the Flippen Group Processes.
Click to Download
STATEMENT OF SUPPORT: FLIPPEN EDUCATION

45% Decrease in Discipline Referrals
National Showcase School 2015-2016
"Capturing Kids' Hearts helped to create a positive culture among students and staff. We now have a common language and a system in place that is measurable and is being implemented at an 85% rate by our teachers, with intentionality and purpose. We have seen discipline referrals decrease 45% for verbal altercations, 30% for disruptions, and 33% for misconduct. If you look at our teaching staff, 76% have been with us for 5 years or more. Our families are informed about Capturing Kids' Hearts at our Open House and parent/teacher conferences along with weekly communications from teachers. The EXCEL Model of communication is foundational across all stakeholders and has impacted the way we speak with everyone."."
Conner Creek Academy East | Roseville, MI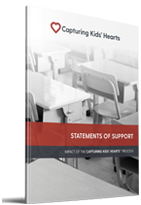 DOWNLOAD THE FLIPPEN EDUCATION
STATEMENTS OF SUPPORT
Nationwide Education Leaders, Campuses, and Districts Share the Transformation Results of the Flippen Group Processes.
Click to Download
STATEMENT OF SUPPORT: FLIPPEN EDUCATION

50% Fewer Discipline Referrals
National Showcase School 2015-2016
"Wasilla High School's entire staff was trained to use Capturing Kids' Hearts processes in the fall of 2014. Since then, we have seen some dramatic improvements in our school and how students describe their experience with us. Our school of 1,100 is located in a small Alaskan town where 40% of the students qualify for free and reduced lunch. The most significant change we have celebrated is our graduation rate moving from 76.14% in 2013 to 91.5% in 2015. We attribute this to staff taking individual interest in students and empowering them to accomplish their goals. In a recent survey of the student body, 85% of students named an adult in the building whom they trusted and would go to if something was bothering them, up from 59% in 2014. In addition, our discipline rate is half what it was in 2013. Students take pride in treating each other with respect and being a school that supports differences. Two student suicides in consecutive years broke our hearts, but through the empowering processes of Capturing Kids' Hearts, a proactive prevention response is alive and well. Students started a group called, 'You Are Not Alone.' To date, 35 student leaders have been trained by professionals to train other students to question, persuade, and refer anyone who is contemplating suicide. Our student trainers have trained over 500 of our students, and are leading a district initiative to train other students and start 'You Are Not Alone' groups in all the secondary schools. Every contact with the Flippen Group helps us feel supported and inspired to continue to reach every student. We are committed to our work and our community and are grateful the Flippen Group taught us the skills to build better relationships and change lives."
Wasilla High School | Wasilla, AK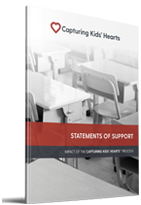 DOWNLOAD THE FLIPPEN EDUCATION
STATEMENTS OF SUPPORT
Nationwide Education Leaders, Campuses, and Districts Share the Transformation Results of the Flippen Group Processes.
Click to Download