Wyoming Park High School: Capturing Kids' Hearts Creates Positive Behaviors
15 years ago
0 comments
317
Reaction to gun incident at Wyoming Park High School shows how much has changed in 10 years since Columbine school shootings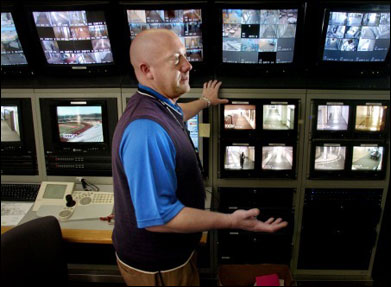 Paul McCatty, director of safety and security for Kentwood Public Schools, talks about the 70 cameras and security system at East Kentwood High School. "It's a great benefit to observe 70 locations in a matter of seconds," McCatty said. "We can accurately discipline based on the video."
Photo by Emily Zoladz | The Grand Rapids Press
By DAVE MURRAY | The Grand Rapids Press | Published: April 17, 2009
A Wyoming Park High student came to school Friday with a handgun, and staff immediately followed a plan they have practiced for a decade — one created after the shootings at Columbine High School.
A student tipped off a staff member, then police were alerted and teachers were told the building was locked down, meaning no one could leave their rooms.
Working with the officer assigned to the school, police discovered the unloaded weapon in a 17-year-old's backpack and searched lockers and cars, taking five students into custody within an hour.
The situation would have been handled much differently, and certainly not as quickly or effectively, prior to the 1999 Colorado shootings, Superintendent Jon Felske said.
"If anything positive came out of that tragedy, it's that schools are now prepared," he said. "Everybody now has plans and started working more closely with their police and fire departments. Nobody was doing that before Columbine."
Ten years ago on Monday, students Eric Harris and Dylan Klebold arrived at their Littleton, Colo., school with guns and homemade bombs, killing 12 classmates and a teacher and wounding 23 others before turning their weapons on themselves.
Local educators say that day, the deadliest in an American high school, forever changed how schools look at safety and the emotional well-being of students.
"It was a major change for everyone psychologically," Cedar Springs Superintendent Andrew Booth said. "If something like that could happen in a school like that, then it could happen anywhere."
Paul McCatty stood before a bank of monitors, each showing a video slice of sprawling East Kentwood High School.
Some showed an empty corridor, others show walking students, each with a white identification badge hanging from a black lanyard.
"Some people think it's a bit of a 'Big Brother' thing," said McCatty, Kentwood's safety and security director, of the 68 cameras. "But if we see something that doesn't look quite right, we can be there in minutes, before it can become something bad."
Kentwood was among the first districts in the region to overhaul its safety plans in wake of the killings and became one of two in Michigan to receive a federal Safe Schools/Healthy Students grant. The three-year, $4.5 million grant called for the schools to work more closely with police and other agencies, rethink the way buildings are designed and develop better relationships with students.
Today, Kentwood schools have reconfigured entrances so visitors must walk not just near the offices, but through them to get to the hallways.
There are large identification letters above every door to direct emergency workers. Every classroom has a safety "go bag" that contains first aid materials but also a list of every student in the class and their medical information.
Administrators have monthly meetings with city public safety leaders to fine-tune crisis scenarios from parents in a custody battle to tornadoes to a plane crash.
And the cameras are out in the open to make sure students know they are being watched, which McCatty said serves as a deterrent.
"We've had discipline situations where we bring in parents and play the video," he said. "They're usually very short meetings."
But Superintendent Scott Palczewski said hardware and disaster plans can do only so much. Staff spends more time working with students to diffuse problems.
The Capturing Kids' Hearts program has classes creating social contracts that stress positive behavior and trains staff members on how to form positive relationships with students.
Rockford's security officers wear what Superintendent Michael Shibler calls "campus-style" uniforms with the intention of appearing less imposing. But nearly all of the district's seven security officers have experience in law enforcement.
Shibler said state legislators overreacted after the killings, mandating expulsion for any student possessing a gun or knife in school. That forced districts around the state to boot some elementary students for bringing items, such as butter knives.
"They brought some common sense to the zero-tolerance policies," he said. "School boards needed some flexibility for extenuating circumstances, and we got that."
Districts also paid closer attention to bullying, which Larry Johnson, the Grand Rapids school district's executive director for public safety, said is the underlying problem for many security issues. Now, he said, schools have to adapt to computer-based bullying through social networking Web sites.
"Schools are better off than they were 10 years ago, but they need to keep on top of things," said Johnson, who serves on the board of a national school security organization.