Capturing Kids' Hearts is changing the culture at Thomas Stone High School
16 years ago
0 comments
1,049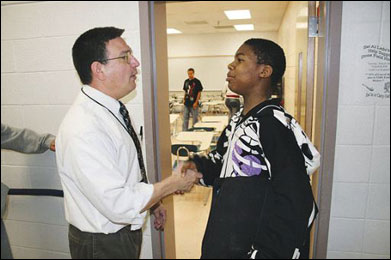 Thomas Stone High School math teacher James Nasso, left, greets ninth-grade student Avery Briscoe, right, with a handshake before class March 13.
Capturing Kids' Hearts at Stone
By Rita Arnst, MySouTex.com
Attitudes are changing at Thomas Stone – one teacher, one staff member, one student, one handshake at a time. Each day, teachers shake students' hands, offer smiles and pass along positive comments. It's an attitude of respect and part of Capturing Kids' Hearts, a program based on the idea that successful students have positive role models and relationships with adults.
''If you have a child's heart, you have their head," said Stone Principal L.C. Martin in a press release. Capturing Kids' Hearts is a voluntary program started at Stone this year and it is intended to energize and excite teachers about their students. With one-third of the Stone staff trained, Martin says it is making a difference and as staff members change their own behaviors, the students follow. Martin was among the first to participate in the training provided by the Flippen Group, the developer of the program, and he is passionate about Capturing Kids' Hearts.
''We share the good news," he said in the release. Students share their lives with staff, and staff with them. ''I have long believed that student success is related to relations between adults and students at the school," Martin told the Charles County Board of Education members at a recent meeting.
Statistics back Martin's enthusiasm. Suspensions between August and January decreased 37 percent compared to the same time a year ago. This school year, daily attendance has increased 1 percent or more each month. Aeronita Dillard, a special education teacher, said that when she changed, she saw changes in her students.
''Fear is behind inappropriate behavior," she told the board, and the training helped her learn how to eliminate fear by creating a safe environment. The result is a culture that breeds respect and does not allow putdowns in the classroom. She says it has made a difference, and her students enjoy coming to class.
James Nasso, a math teacher, took a little longer to convince. A self-professed change-resistant teacher with an attitude about attending the program, he was quickly convinced of the value of Capturing Kids' Hearts.
''It teaches you how to look at each student as a person," he said in the release. And, he added, it works. Each class period, he stands at the door, smiles and shakes each student's hand as they enter class. He thanks them for arriving on time.
''You are smiling. They are smiling, and they can't wait to be there. … For me, it shows the students you truly care about them and that's what they need to know." It has made him a better teacher, he said.
Student Asiah Cauley says students are experiencing more respect from their teachers and other students. Shaking hands before every class and developing social contacts as a class makes the students feel respected as young adults.