Virtual Consulting and Training
3 years ago
0 comments
498
Educators today are facing constant change and complexity – charged not only with motivating and encouraging each other, but also redesigning an infrastructure to serve students.
The Flippen Group is prepared to serve you and your team with relevant virtual solutions that meet your current needs for sustaining culture and relationships whether your campus is physically together or apart.
Teacher Insights: A powerful virtual training experience that includes behavioral data assessment, one-to-one coaching for each participant, and ongoing cloud-based resources to support you and your team! Teacher Insights™ provides educators with the skills and tools to connect, communicate and create high impacting relationships with students, parents, and colleagues.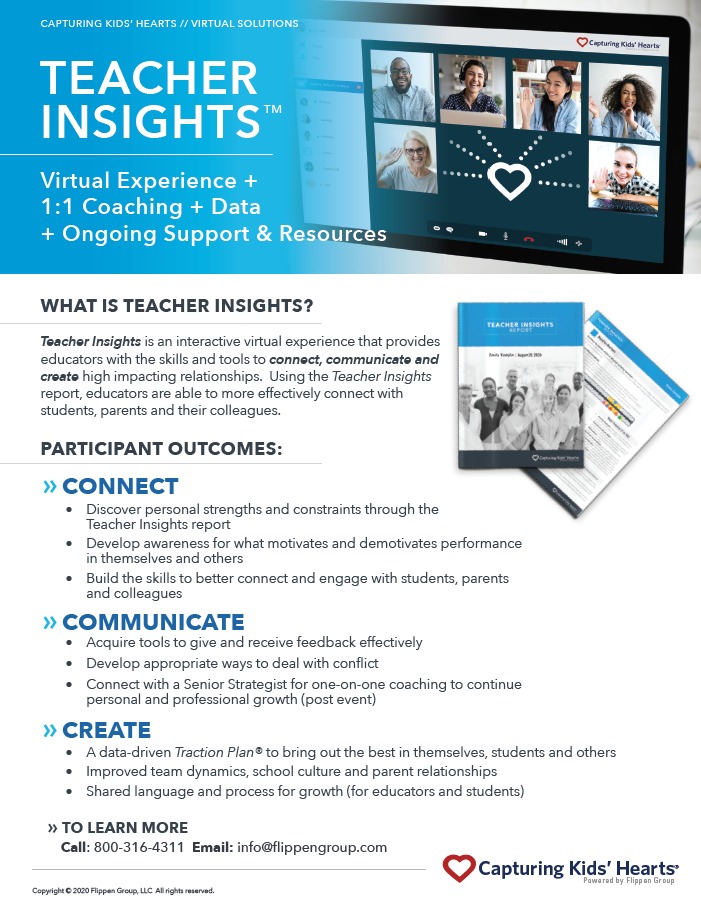 Virtual Consulting and Training: The Capturing Kids' Hearts® team is available to remotely provide training, personalized consulting, tools and resources to help YOU meet the current needs of your staff, students, and parents in all you are currently navigating.
Contact us at info@flippengroup.com, or 800-316-4311 to learn more about how Capturing Kids' Hearts virtual solutions can serve you!