Texas Partners Honor 60 Best Companies to Work for in Texas at Awards Luncheon
8 years ago
0 comments
405

Re-Post from February 1, 2007
Texas Partners Honor the 60 Best Companies to Work for in Texas at Awards Luncheon
Austin —Governor Rick Perry honored the 60 Best Companies to Work for in Texas, a statewide competition to recognize companies that were rated by their employees as one of the best companies to work for in Texas.At a luncheon hosted by the Texas Association of Business (TAB), the publishers of Texas Monthly and the Society for Human Resource Management – Texas State Council (TX-SHRM), over 500 business leaders were on hand to honor the winners.
"While it is no secret that Texas is a great place to live, what folks may not know is that Texas is a great place to work said Bill Hammond, TAB President.
Managed by Best Companies Group, the program is a multi-year initiative to motivate companies in the state to focus, measure, and move their workplace environments toward excellence.
Numerous studies show a strong correlation between profitability and creating a good place to work.
The goal of Best Companies to Work for in Texas is to raise the bar among the state's employers and create excellence and employee satisfaction in the workplace that will attract talented people for years to come. This initiative is integral for Texas to compete in both national and global arenas.
The 60 Best Companies to Work for in Texas initiative is similar to the famous Fortune magazine list.  In addition to the positive effect the award has on their employee morale, employee relations, and recruitment, the driving force for companies to join in this program is the remarkable effect that workplace improvements can have on their bottom line.
The selection process was based on an assessment of the companies' employee policies and procedures and the results of an internal employee survey. The Assessment Findings Report that all participating companies receive enables them to develop plans and implement steps necessary to create a great workplace and continue to improve the performance of their business.
Further details about The Best Companies to Work for in Texas initiative can be found online at http://bestcompaniestx.com.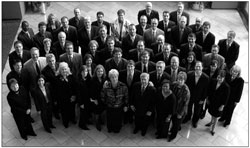 The 60 Best Companies to Work for in Texas
in Order of Their Ranking
1 Kaye/Bassman International Corporation, Plano
2 Flippen Group, College Station
3 Patrick Henry Creative Promotions Inc., Stafford
4 Edward Jones, Long Beach CA
5 Trans-Trade Inc., Grapevine
6 Barhorst Insurance Group, Houston
7 SicolaMartin, Austin
8 Flintco Inc., Austin
9 The Delta Companies, Irving
10 MATRIX Resources Inc., Dallas
11 Apex Capital LP, Fort Worth
12 Shared Technologies Inc., Oakbrook, Indiana
13 DPR Construction Inc., Austin
14 B. Lowry Management Inc. dba Association Management Services, San Antonio
15 Rackspace Managed Hosting, San Antonio
16 City Bank Texas, Lubbock
17 Investment Professionals Inc., San Antonio
18 WHR Architects Inc., Houston
19 Camden, Houston
20 Duke Realty Corporation, dallas
21 Central Texas Workforce, Belton
22 Diamond H Recognition LP, Fort Worth
23 Award Solutions Inc., Richardson
24 Medallion Homes, San Antonio
25 Magnum Staffing Services Inc., Houston
26 Denton Regional Medical Center, Denton
27 The Beryl Companies, Bedford
28 K2Share LLC, College Station
29 Walter P. Moore, Houston
30 SpawGlass, Selma
31 Resources Global Professionals, Houston
32 Trendmaker Homes, Houston
33 Transwestern Commercial Services, Chicago, Illinois
34 Neighborhood Ventures, Dallas
35 Administaff Inc., Kingwood
36 Texas Property and Casualty Insurance Guaranty Association, Austin
37 Rothstein Kass, Dallas
38 Four Hands, Austin
39 American Campus Communities Inc., Austin
40 Century 21 Judge Fite Company, Dallas
41 Hermes Sargent Bates LLP, Dallas
42 frog design inc., Palo Alto, California
43 Aquire, Irving
44 Enterprise Rent-A-Car, Houston
45 Vinson and Elkins LLP, Houston
46 AMERIGROUP Community Care, Arlington
47 United Supermarkets Ltd., Lubbock
48 Baylor Medical Center at Frisco
49 Homecomings Financial, Dallas
50 CHRISTUS St. Michael Health System, Texarkana
51 Carlson Restaurants Worldwide, Carrolton
52 Wells Fargo Bank, San Antonio
53 Keller Williams Realty Inc., Austin
54 Hartman Leito and Bolt LLP, Fort Worth
55 A&E—The Graphics Complex, Houston
56 Community Bank Holdings of Texas Inc., Corsicana
57 First Horizon National Corporation, Memphis
58 Pegasus Logistics Group, Coppell
59 Texas Children's Hospital Integrated Delivery System, Houston
60 Brookshire Grocery Company, Tyler