Over 5800 Students Attend LeadWorthy Live Dallas
5 years ago
0 comments
397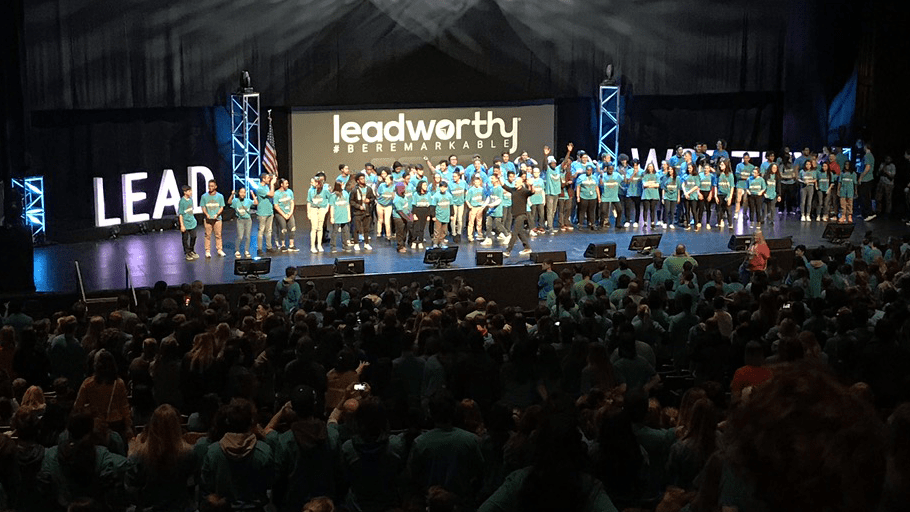 On March 6, 2019, more than 5,800 high school student leaders from 30 school districts and 90 campuses gathered in The Theatre at Grand Prairie for LeadWorthy Live – an initiative bringing leaders, students, and educators to a stadium-sized classroom to learn, be inspired and challenged to #BeRemarkable!  
Keynote speaker and founder Flip Flippen joined with other special guests inspiring these young leaders to make every one of the 86,400 seconds we have every day count.    
Flippen asked the audience, "What plans do you have for your life?" and encouraged students to not "settle for getting a job… get a purpose!" LeadWorthy teaches students the value of learning self-discipline and taking personal responsibility to make every day count.  
Master illusionist Vinh Giang captivated the audience and encouraged students with a personal and inspiring message on achieving what the world may say are impossible goals: "When you do great work, you change the world."   
LeadWorthy Live was emceed by local LeadWorthy students and hosted a variety of special guests including former Harlem Globe Trotter Joyce Ekworomadu who challenged students with a lesson on the ABC's of success. Performances from Flower Mound Marcus High School's drum line and The Grand Prairie Fine Arts Academy choir brought the audience to its feet! Students departed with a farewell challenge to make a difference.  They were encouraged to do something small, make it bigger and then tell the world about it by tagging their posts on social media with #leadworthychallenge.  
Flippen established LeadWorthy as an initiative with a goal of encouraging students to pursue excellence in their relationships, leadership positions, and future careers. LeadWorthy includes LeadWorthy The Course (formerly Teen Leadership), a curriculum for growing middle school and high school student leaders; LeadWorthy Online, an online community to engage and challenge students; and LeadWorthy Live, events that connect students, teachers, and leaders in person.   
For information on future LeadWorthy Live events, visit www.leadworthy.org.